I've got an old Mercury..
I've got an old Mercury. They're well built and the interface is pretty much the same as the 'western' machines. They're not toys or hobby machines. You may also see them under the Pinnacle brand name.

Joe Alcathie

Country

America
looking at a GCC Laserpro C180 need some feedback
Looks like a nice machine, is priced almost at the same level as a trotec, Uls or epilog. Seems awful high for an import or am I missing something?
Replies:
Paul Philips
Hi Joe, I've seen the Laserpro's at the sign expo and almost bought one, they are equal in quality with the Western made machines (IMO), they are made in Taiwan (whole different quality level from typical Chinese made) and have been around as long as most others so they are priced at western price levels.

MadeDesigns

Country

America
Expert 24 LX accuracy
I am the owner of an Expert 24lx. It is far more accurate than my mh350 US CUTTER . The expert can cut fine detail the m350 can't . Also the expert 24 lx has an optical eye. However, I find a thin white outline on images that I have contour cut.
I have adjusted my offset only to find that it shift the white outline. I have seen videos on the graphtec ce6000 and do not see an outline after images have been cut. Is this machine quality related or will there always be an outline on all machines.
http://www.t-shirtforums.com/gcc-brand-vinyl-cutters/t542234.html
I love my new GCC Puma III!!
Just got a GCC Puma III to replace my VinylExpress R31 (Redsail). What an awesome cutter! Quiet servo motors, edge to edge cutting, contour cutting too! It just plain rocks! I never could get my R31 to cut Sticky Flock. The Puma III cuts it like a hot knife through butter!!
http://www.t-shirtforums.com/gcc-brand-vinyl-cutters/t183430.html
Gravure'85

Country

Nederland
Unique Investment by Gravure'85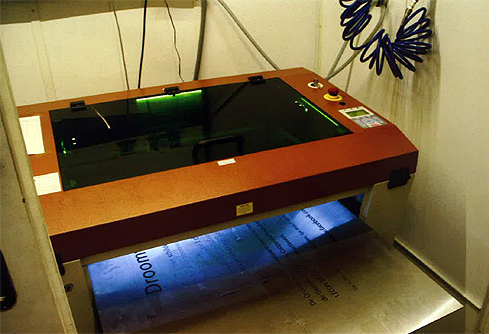 Those assuming that laser engraving or marking is not possible for large format metals, are mistaken. In fact, Dutch industrial engraving company Gravure'85 has proven the contrary. Ernst Hendriks, owner of Gravure'85, wanted to find a machine capable of marking and engraving large (stainless) metal plates in one pass. His search eventually led him to the Dutch supplier SignSeen (Veenendaal, the Netherlands).
Stainless-steel/Metal laser engraving on the larger scale
Supplier SignSeen installed a machine usable for large format metal marking and engraving at engraving company Gravure'85. "Laser engraving large format materials is a quite particular craft within our industry", Jan W. Leendertz, managing director of SignSeen, U.S.. So far, the supplier has only sold this type of devices to the industry.
SEE MORE...
I remember (nearly a year ago now) using this exact machine to produce my product for my Product Design GCSE, the product itself achieved an A grade. The machine was great, I worked on it a lot as my product was fully CAM made. Top notch for quality the Laser Pro machines are!