电脑刻字机
Oil seals, gearbox gaskets, machine and tool dust covers
GCC JAGUAR IV-61 is ideal for creating NBR washers and gaskets of various designs in a small volume. The oil seals, gearbox gaskets, machine and tool dust covers and other applications associated with NBR currently available in the market are of multiple designs but at high costs. Now with GCC Jaguar and above series (the cutting pressure suggested is approximately 600g), you can also create your own washers and gaskets (by following the procedures below) to save the cost of purchasing the commercially available car rubber gaskets/washers formed through pressurizing sheet metal parts made from cast iron or stainless steel.
How NBR gaskets/washers available in the current market are processed:
The commercially available NBR gaskets/washers for cars are processed through the shaping of pressurized cast iron or stainless steel sheet metal parts using casts. The gaskets/washers are then formed by vertical stamping of the rubber via the convex and concave sides of the casts.
Advantages of NBR: Excellent oil, acid, rubbing and ozone resistance.
Samples: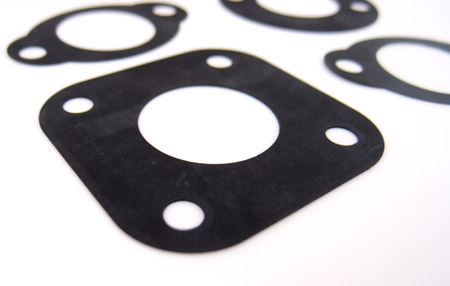 Tips:
1. Please attach NBR to the Adhesive Film.
2. The Add-on Flat Table is recommended for this application to achieve great cutting stability and a better result.
Suggested parameters:
JAGUAR IV-61

Speed

Force

Offset

Quality

3cm/s

510g

0.500mm

Small letter