激光打标机
StellarMark's technological expansion in 3C industry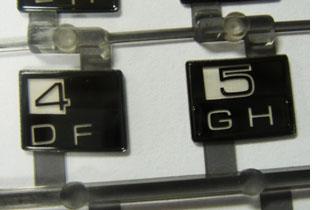 "Green" or environmentally-friendly product related designs are gaining prominent popularity, electronic commodities like cell phones, computers, and walkmans have also incorporated this new movement into their designs, attempting to stay innovative but at the same time, trying to minimize ink-use to reduce possible pollutants. For example, amongst 3C electronic products, keypads take up a significant proportion.
Innovations in technology have developed to add a luminous element to cell phone keypads, in which phone users will still have visibility in the dark as dim lighting will emit through the transparent number keypads. This type of applications require a complete removal of surface coating of keypads to disclose the transparent layer, this removal must be achieved evenly to give a full and visible light emission.

Laser printing applications are ideal to process these keypads, since laser rays give effective and stable power output which evenly clears the surface coating layer to enhance light transmission. Please refer to the following samples for more reference.

When the black coating layer is completely removed by the laser, light will emit through the transparent plastic to give visible illumination for users. If laser power output is unstable, it will not be able to evenly remove or clear the coating layer, resulting in poor light emission, as shown below:

In order to effectively resolve this dilemma, the proper selection of a suitable laser model becomes vital. LaserPro here demonstrates how you can use GCC LaserPro StellarMark I-Series to process these keypads. Through the given example, you will see that the StellarMark I-Series will operate with more refined laser points, achieve efficient marking, and also steadily outputs lasers to give an even and complete finish, ultimately optimizes light transparent levels.
Sample:
Tips:
Please ensure the keypads are flat and even, this will avert out-of-focus so as to maximize removal of coating layer.
Different manufacturers will process keypad coatings differently, please modify parameter settings accordingly.
Please note of the directions of marking, if needed, turn on 'Invert' to minimize unnecessary resource waste.