激光打标机
Marking the anodized aluminum spring hooks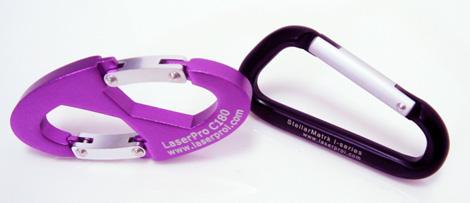 There has been an extensive spread of applications using Anodized Aluminum Alloys, in which alloys had been transformed and adapted into various commodities and accessories, including the latest craze of bicycles, iphone shells, and even specialized architectural resources. By using the alloys would give products a more stylish outlook; also through electrochemical treatments on alloys will shield products from oxidation. Moreover, through further chemical reactions and treatments will also produce different colorings on alloys.
Applying the laser marking system to anodized aluminum alloys is a common application, since laser systems are able to effortlessly mark or engrave on anodized aluminum alloys, producing various high quality and sophisticated creations.
Now LaserPro will demonstrate marking applications on spring hooks that are used for mountain-climbing. From now on you will be able to pack your own personalized spring hooks for the next climbing adventure!
Here below are respective marking results when using the I-series and C180.
Sample: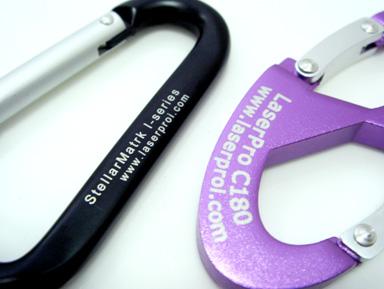 Tips:
Density of anodes may vary, please adjust marking parameters accordingly.
Please operate with moderate power levels as anode layers may be damaged or oxidized if marking power outputs are too great.