激光打标机
Marking on Light Bulb to enhance the recognition of product information
Light bulbs are essential daily necessities. Often when replacing light bulbs we would discover that the original packaging had already been discarded, facing with the dilemma of choosing replacement bulbs without enough specifications or wattage information.
Nowadays, various manufacturers already began to directly print logos onto light bulbs, as well as wattage levels and product serial numbers, all printed to provide consumers with easily recognized product information, offering greater shopping convenience.
Marking on light bulbs is a simple application adapted for mass production processes, and time efficient too. Users can also choose to mark directly on the light bulbs surface *1 or mark on the metallic portion at the lower section of light bulbs. StellarMark systems can deliver effective marking results on all parts of light bulbs, and gives clear and durable marking results.
This month the LaserPro Application Lab will demonstrate marking applications on light bulbs. We will experiment on various brands of light bulbs and use YVO4 laser to mark, and then compare the differences between marked light bulbs and unmarked light bulbs.
*1 Surface treatments of bulbs may vary; therefore laser markings may deliver differed marking results on different light bulbs.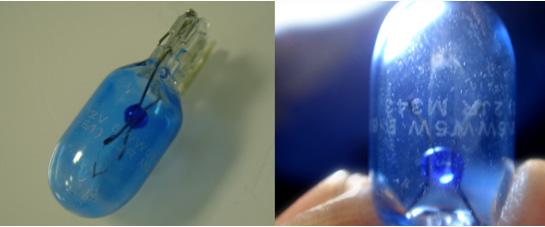 Tips:
Before marking begins, please ensure the levelness of working object(s) to avoid destroying marking quality due to the out-of-focus laser.
Please moderately adjust parameters, too much power output may pass through the glass layer and harm the internal components.