激光打标机
The model number is marked on the back of the leather watchband so that the corresponding product can be found easily when a customer asks for a band change.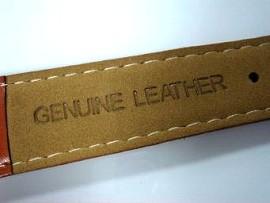 Engraving on the back of the leather watchband
In addition to the product model number, custom patterns can also be marked onto the leather surface to satisfy different marking needs. At present, most marking jobs are fulfilled by searing. However, disadvantages have been found in both two methods. Printed patterns are very likely to fade over time and engraving, on the other hand, takes even more time and work and is least cost-effective since it requires the creation of a jig in advance.
To solve the problem in a more effective way, you can use LaserPro StellarMark C Series to process your leather watchbands. It cannot only mark the product model number but also handle different marking jobs. With LaserPro StellarMark C Series, you on longer need other special jigs or worry that the long-term wear of the watch could fade the marked model number or patterns on the band.
This month, LaserPro Application Lab presents how the tool can help you mark the leather watchband. Rather satisfactory results can be delivered just by using low-watt CO2 Laser.
Sample

: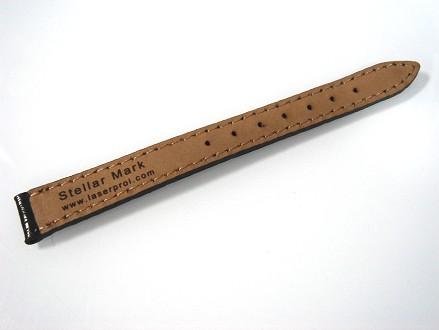 Please ensure that all resource materials are evenly leveled before laser marking begins.
The thickness of copper electro plating will vary, please adjust parameters accordingly.
After marking, please swipe gently with ethyl alcohol to clear away any remaining copper residue on the surface.