新闻稿
Sep.2012
Eco-friendly Metal Crates for GCC LaserPro Laser Engravers
GCC, a global forefront manufacturer in the visual communication industry, has launched new metal packing crates to replace previously used wooden crates in response to forest conservation, which is one of the key issues that the international community concerns about.

GCC has used eco-friendly metal crates for GCC LaserPro laser engravers including Sprit, Spirit LS and S290LS. Other models will change to metal packing crate in the near future.

For years, GCC LaserPro has been dedicated to reducing carbon footprint and becoming a greener company in the industry. We hope that using metal crates will allow GCC to better help the extreme world deforestation rates. We will continue to improve to be the leader in the industry.

For more information, please visit us at http://www.gccworld.com/or contact your local sales representative.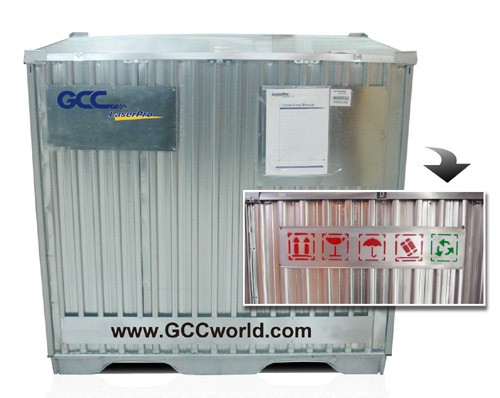 About GCC
GCC, a global leader in professional large format UV curable inkjet printer, laser engraving/cutting/marking systems, vinyl cutting equipment, provides businesses, governments, and consumers with innovative and reliable solutions. Headquartered in Taipei, Taiwan, GCC has branch offices in Walnut, CA , Capelle a/d IJssel, Netherlands and Kunshang, China. With over 100 current and pending worldwide product patents and trademarks, GCC has earned a worldwide reputation for innovation, quality and reliability in the awards & recognition, sign, personalization and manufacturing industries.