新闻稿
Dec.2012
Perfect metal cutting machine – GCC LaserPro 290LS 200W is now available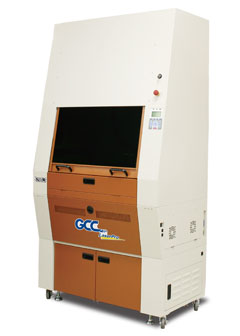 GCC, a global forefront equipment-manufacturing provider in the visual communication industry, is pleased to announce that S290LS 200W is now available.

GCC LaserPro S290LS 200W is a perfect and convenient tool for cutting metal sheet. Metal cutting becomes effortless and all you need is to use the appropriate assist gas such as nitrogen or oxygen to cut thin metal sheets.

The following are several unique merits for GCC LaserPro's S290LS 200W:

1.GCC LaserPro S290LS 200W is compact with sufficient format so it doesn't waste your space to place it.
2.Fine beam size enables you to create fantastic working pieces.
3.Compared to CO2 laser tube, fiber laser power consumption is much lower.
4.High quality fiber laser comes with a long lifetime.

Below please refer to the Metal Cutting Parameter Table:
| | | | |
| --- | --- | --- | --- |
| Material | Cutting Thickness | Assist Gas | Pressure (PSI) |
| Stainless steel (304 model) | (up to 1mm) | Nitrogen | 400~480 |
| Aluminum | (up to 0.5mm) | Nitrogen | 200~460 |
| Copper | (up to 0.5mm) | Oxygen | 200~280 |
About GCC
GCC, a global leader in professional large format UV curable inkjet printer, laser engraving/cutting/marking systems, vinyl cutting equipment, provides businesses, governments, and consumers with innovative and reliable solutions. Headquartered in Taipei, Taiwan, GCC has branch offices in Walnut, CA and Capelle a/d IJssel, Netherlands. With over 100 current and pending worldwide product patents and trademarks, GCC has earned a worldwide reputation for innovation, quality and reliability in the awards & recognition, sign, personalization and manufacturing industries.