新闻稿
Jan.2013
GCC Cutting Plotter Sample Book Now Available Online!
GCC, a global forefront equipment-manufacturing provider in the visual-tech industry, would like to announce that the Cutting Plotter Sample Book is now available on GCCworld.com for viewing!

This ingenious tool shows you why GCC Cutting Plotters are the perfect choice for both professionals and entry-level users. You will see how versatile cutter applications can be and the unlimited business opportunities lying ahead.

Through a click on the ticker banner on GCCworld.com, you will be prompted to a list of applications: Decoration, Automotive, Print/Cut, Sign and Display, Traffic Sign, Gift and Memorabilia as well as Apparel.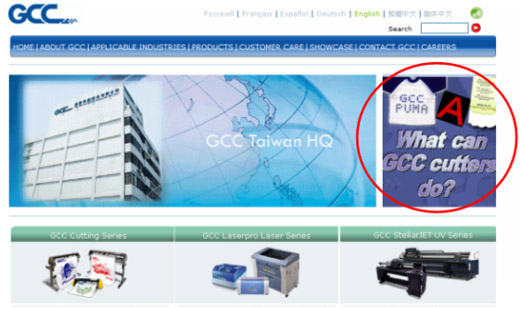 Simply pick an industry on the selection bar for the application you are interested in and press the graphic below each page to see the applicable samples. All pages can be enlarged once clicked.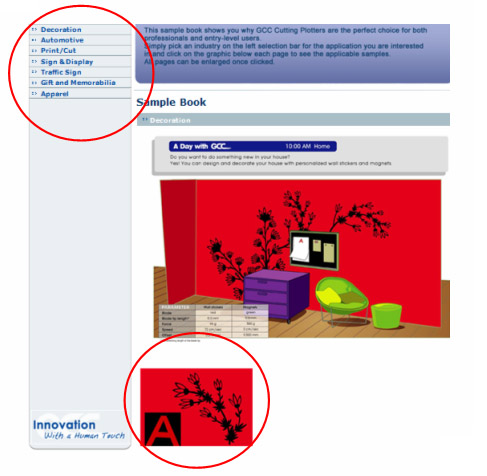 Through this online Sample Book, you will have a clear view of the applications that can be performed through GCC Cutting Plotters. The Cutting Plotter Sample Book comes with substantial samples of all applications and clear instructions of the parameters applied, making it an easy task presenting the differences GCC Cutting Plotters can make. With this magic wand, you will know more about the industries involved and how you can prosper your business.

For more product information, please contact local GCC sale representatives in your area or visit http://www.gccworld.com/

About GCC
GCC, a global leader in professional large format UV curable inkjet printer, laser engraving/cutting/marking systems, vinyl cutting equipment, provides businesses, governments, and consumers with innovative and reliable solutions. Headquartered in Taipei, Taiwan, GCC has branch offices in Walnut, CA and Capelle a/d IJssel, Netherlands. With over 100 current and pending worldwide product patents and trademarks, GCC has earned a worldwide reputation for innovation, quality and reliability in the awards & recognition, sign, personalization and manufacturing industries.