新闻稿
May.2013
Material Damper for GCC Cutting Plotters
GCC, a global forefront equipment-manufacturing provider in the visual-tech industry, would like to introduce the material damper for GCC RX, Jaguar IV and Jaguar II series.
The material damper, which ensures consistent feeding of materials, comes with the roll holders of GCC Cutting Plotters. The steps are as simple as turning the wheel on the roller to adjust damping. There are numbers clearly marked on the wheel to show the amount of damping and the volume symbol sticker on the roll holder indicating the damping level.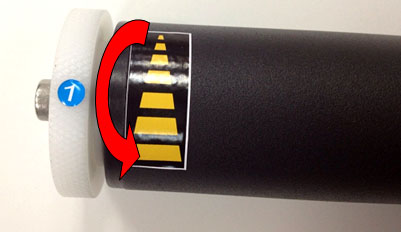 This brilliant tool prevents material rolls from feeding randomly as a result of their thickness and hardness and hence widens the range of applications you can work on. GCC has been constantly working hard to produce the most user-friendly and customer-oriented products in the line.
For more product information, please contact local GCC sale representatives in your area or visit www.GCCworld.com