新闻稿
Sep.2013
New Functions Available on GCC RX Series Driver Interface
GCC, a global forefront equipment-manufacturing provider in the visual communication industry, would like to introduce the suggested parameter setting and image scaling setting on the driver interface of GCC RX Series cutting plotter that help simplify the workflow and increase the accuracy of your jobs.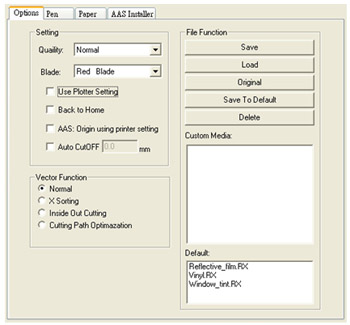 On the Options page, the new sections, "Custom Media" and "Default" have been added and made the driver page more accessible. Users can save the most commonly applied or previously created parameter settings as files and these files will be listed on Custom Media section on the Options page. Next time when you need to perform repeated jobs, simply double click the file names and the parameters will be loaded. More than 50 files can be saved, allowing you to save your frequently used cutting parameters and load them whenever needed.
In addition, a number of parameter settings are suggested to achieve the best cutting results with verified media. Yet the settings may vary according to different brands of media used and miner modification of the settings might be required.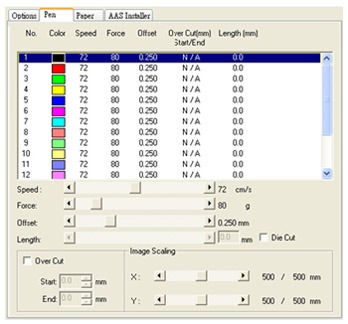 On the Pen page, users can adjust the image scale of media length and width to decrease the difference between the ideal length and the actual length generated. When a cutting job is processed, the actual width and length measured from the result may differ from the ideal width and length caused by various thicknesses of media used. Users can get a greater performance by modifying the image scale values. For example, they can cut a line of 500.0 mm in length, measure the cutting result and set the values of the actual length based on this for error compensation.
For more product information, please contact local GCC sale representatives in your area or visit www.GCCworld.com
About GCC
GCC, a global leader in professional large format UV curable inkjet printer, laser engraving/cutting/marking systems, vinyl cutting equipment, provides businesses, governments, and consumers with innovative and reliable solutions. Headquartered in Taipei, Taiwan, GCC has branch offices in Walnut, CA and Capelle a/d IJssel, Netherlands. With over 100 current and pending worldwide product patents and trademarks, GCC has earned a worldwide reputation for innovation, quality and reliability in the awards & recognition, sign, personalization and manufacturing industries.