新闻稿
Nov.2013
Registration Marks for Automatic-Aligning System
GCC, a global forefront equipment-manufacturing provider in the visual communication industry, is proud to introduce the function of adding registration marks by page size in Illustrator. This feature is applicable to all cutting plotter models with the Enhanced AAS II Contour Cutting System: Expert 24/52 LX, Puma III, Jaguar IV and RX series.
The Automatic-Aligning System (AAS II) guarantees precise contour cutting by automatically detecting the registration marks on digitally produced images with the functions of 1st-mark auto-detection, 4-point positioning, segmental positioning and multiple copies.
When processing a long cutting job, it is suggested to adopt segmental positioning to ensure the cutting quality. Users can adjust the distance between the marks on the X axis and Y axis to calibrate offsets to deliver accurate cutting results.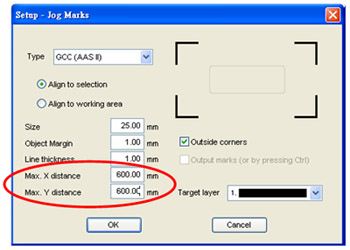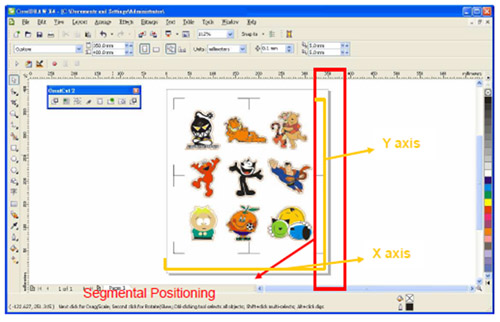 In addition to creating registration marks by objects, users are now allowed to add a registration mark by different page sizes, from A6 (105mm x 148mm) to A1 (594mm × 841mm) and above (within the maximum cutting width range), ensuring an easier and more convenient workflow. When users need to create a registration mark for multiple images on the next job, they simply have to select "add registration mark by paper size" and the mark will be created in a quick and effortless way.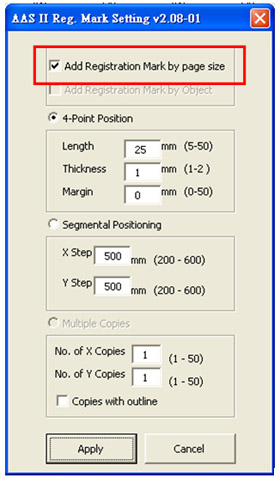 For more product information, please contact local GCC sale representatives in your area or visit www.GCCworld.com.
About GCC
GCC, a global leader in professional large format UV curable inkjet printer, laser engraving/cutting/marking systems, vinyl cutting equipment, provides businesses, governments, and consumers with innovative and reliable solutions. Headquartered in Taipei, Taiwan, GCC has branch offices in Walnut, CA and Capelle a/d IJssel, Netherlands. With over 100 current and pending worldwide product patents and trademarks, GCC has earned a worldwide reputation for innovation, quality and reliability in the awards & recognition, sign, personalization and manufacturing industries.