新闻稿
May.2014
GCC Celebrates its 25th Anniversary
GCC, a global forefront equipment-manufacturing provider in the visual communication industry, is thrilled to mark its 25th anniversary in May 2014.
GCC was established in May 1989, with headquarter in Taiwan, subsidiaries in KunShan, China, Los Angeles, USA and the Netherlands, Europe. Based on its profound technology properties, nowadays, GCC has become a cutting edge professional equipment manufacturing supplier. GCC products such as cutting plotters, laser engravers/markers/cutters, UV curable inkjet printers, and the latest member – printer/cutters, can be applied in visual communications industries such as advertisement signboards, gifts, trophies, banners; its laser marking equipments are also ideal for industry manufacturing processes such as semiconductor and electronics industries.
In May 2014, GCC will celebrate its 25th anniversary, and its passion in developing new products and innovations has never faded.
"Happy 25th anniversary to GCC! I would like to offer my deepest appreciation to every GCC employee, distributor, and dealer. The glorious 25th anniversary milestone is created by the big GCC family and my acknowledgement goes to everyone of you. Owing to your teamwork and contribution, GCC stands up in the competitive market, competing against global famous brands, with excellent achievements," Dr. Leonard Shih, CEO of GCC said. "Of course, I appreciate each of our customers for your user experience and feedback-- compliment or suggestion -- you have driven everyone in GCC to pursuit continuous improvement in user-friendliness and added value. Innovation with a human touch not only is the slogan of GCC, but also our mindset in the beginning and belief. With this mindset, everyone in GCC will continuously be devoted in the development of latest technology, in meeting the need of customers, and in producing more customer-centric innovative products to face the next GCC 25th anniversary."
To celebrate the company's 25th anniversary, GCC has released an official celebratory logo that will be used on all GCC products shipped between May to December, 2014.
Happy 25th anniversary , GCC!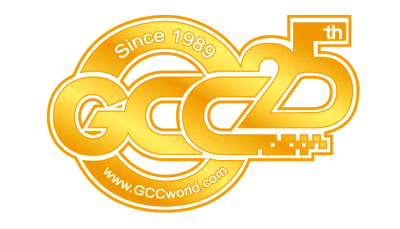 About GCC
GCC focused on computer components and peripherals on its startup in 1989. In early 1992, GCC turned to develop pen plotters; however, when the line was completed, the pen plotter market faced a downward trend and inkjet plotters were introduced. Facing the challenge under such hash circumstances, GCC had determined to lay down its own path and switched its focus to cutting plotters. In 1996, with its advanced technology, competitive pricing strategy and friendly user interface and function, GCC's cutting plotters had been awarded the first Taiwan Excellence Award. With its top 2 share in the Europe and America market, GCC carried on its successful cutting plotter experience and invested more in R&D and manpower in developing laser products and successfully launched the GCC LaserPro CO2 laser engraver in Sep. 1998. Afterwards, GCC became the blockbuster in the international laser application market with an amazing performance. Later on expanding to color inkjet printing products which were on a higher technical threshold, GCC launched thermal heat-transfer printers in 2002, UV curable inkjet printers in 2005, and printer/cutters in 2013.