新闻稿
Jun.2017
Introducing the GCC LabelExpress Series Laser Label Cutting System
GCC, a global forefront equipment-manufacturing provider in the visual-tech industry, is thrilled to launch the GCC LabelExpress Laser Label System, delivering high label cutting speed and great precision with an uninterrupted and unattended workflow. The GCC LabelExpress Series is available in 15 inch and 24 inch with 20W and 30W options.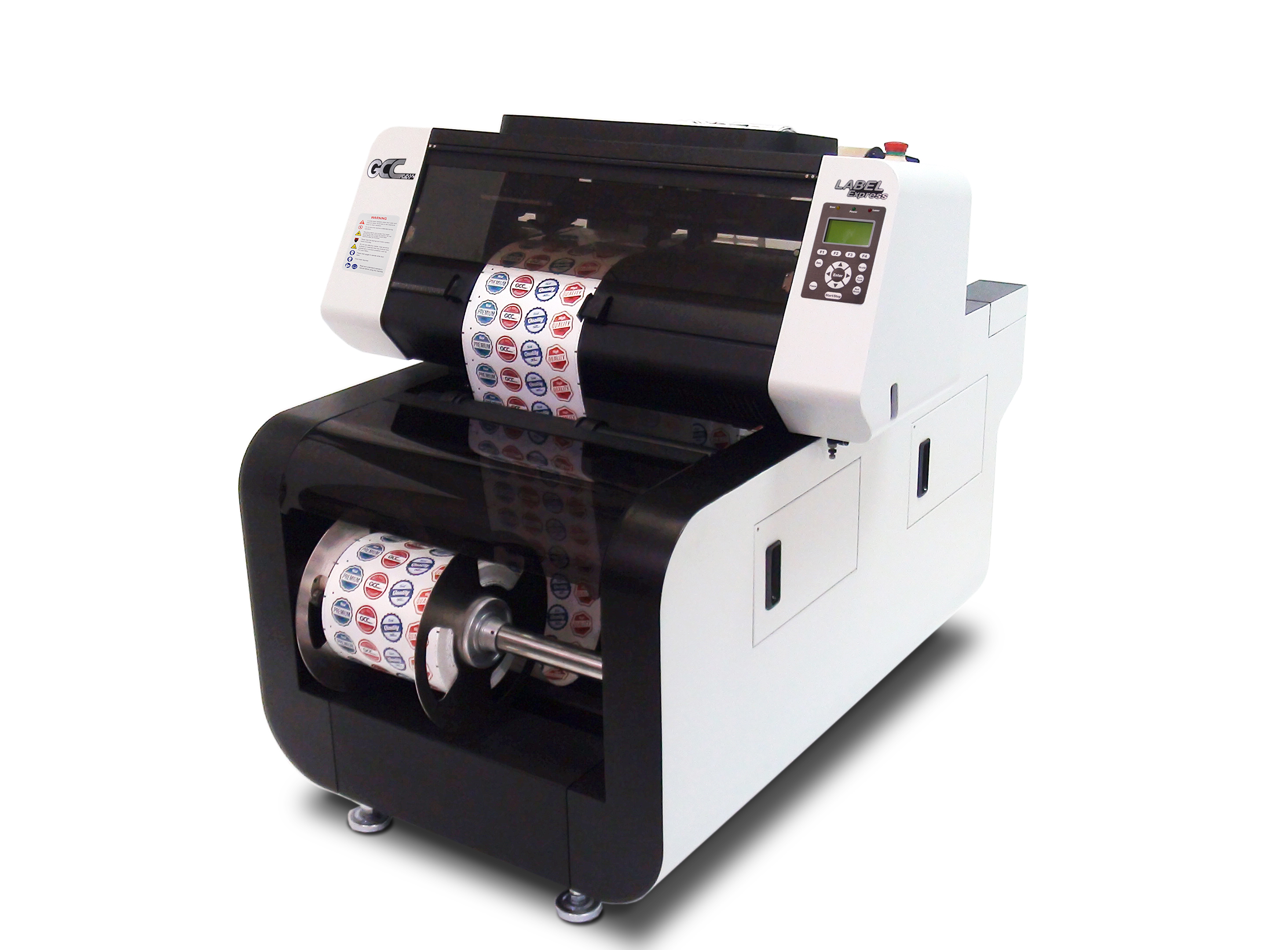 The LabelExpress laser die cutter is a high speed label cutting system that delivers high flexibility and great precision with an intuitive operation.
The maximum width of loading media reaches 381/610 mm which is compatible with most commonly used media rolls in the market. Equipped with a 20W or 30W laser tube, LabelExpress is able to cut square patterns at 1 meter per minute. Its cutting speed has a much higher throughput when compared with traditional knife-based label cutting systems.
The closed-loop DC servo motor with the paper alignment mechanism accurately controls the movement of the roll media, and minimizes media shift while guaranteeing (providing) excellent cutting accuracy. The CCD module allows instant marks readings which can perfectly perform contour cutting on pre-printed labels or graphics.
Incorporated with an auto-feed system, waste removal module and re-winder device, along with an optional slitting module, LabelExpress provides an uninterrupted and unattended workflow in one single compact platform.
The LabelExpress laser die cutter provides the advantages of high cutting speed and short processing cycle time. It is the best tool for label cutting applications, as well as customized graphics-cutting.
Highlights:
Perfect for all kinds of label cutting applications: Applicable to a broader range of applications, from thin materials such as window films to thick materials including reflective films, which satisfy short-run label cutting demands.
SmartVISION™ Pro CCD: SmartVISION™ Pro CCD is a unique artificial intelligence system that reads two marks with scaling and angle compensation to perform precise contour cutting for printouts.
Auto-feeding Ultrasonic Sensors: Ultrasonic sensors detect the distance with media. When the distance is too long, the media will be automatically fed and the cut materials will rewind into the roll for take up.
Waste Removal System: With the waste removal system, the cut label will be separated from waste automatically, and the label is ready to use once the cutting job is finished.
Edge Guiding Mechanism:Edge guiding module keeps materials constantly feeding, while preventing materials from shifting and guaranteeing tracking precision.
Closed-loop DC Servo Technology:A Closed-loop DC servo motor can deliver great continuous shaft power at high speeds, as well as give far great accuracy due to its continuous movement. GCC's high speed closed-loop DC servo motor technology guarantees precise and fast carriage movement with exceptional accurate outputs.
Vacuum System:The top vacuum takes out debris and exhaust during laser cutting, and bottom vacuum holds the material flat for laser cutting.
Dedicated SmartCONTROL Label Driver:Dedicated SmartCONTROL Label allows operators to setup a job effortlessly. Workflows can be drastically simplified with the intuitive and easy-to-use SmartCONTROL Label Driver.
Other revolutionary features:
•Maximum work area of 381 x 500 mm (15" x 24") / 610 x 500 mm (24" x 19.7") sheet paper or 400mm (15.7") / 610 mm (24") width roll media.
•Air assist protects lens from laser carriage
•Steel Drum Driven Technology
•Emergency stop function
•Built-in LED light module to illuminate the working space
•Intuitive Control Panel Interface
•Environmentally friendly products
For more product information, please contact your local GCC sale representative in your area or visit www.GCCworld.com.
About GCC
GCC, a global leader in professional large format UV curable inkjet printer, laser engraving/cutting/marking systems, vinyl cutting equipment, provides businesses, governments, and consumers with innovative and reliable solutions. Headquartered in Taipei, Taiwan, GCC has branch offices in Walnut, CA and Capelle a/d IJssel, Netherlands. With over 100 current and pending worldwide product patents and trademarks, GCC has earned a worldwide reputation for innovation, quality and reliability in the awards & recognition, sign, personalization and manufacturing industries.