新闻稿
Sep.2016
GCC Launches Wi-Fi Router-New Optional Item
GCC, a global forefront equipment-manufacturing provider in the visual communication industry, is pleased to introduce Wi-Fi Router, the new optional item for laser engravers and cutting plotters with an Ethernet port. ( Not applicable for Japanese users.)
Tired of different wiring connections and setup of a small working space? GCC WiFi Router makes your life easier: whether you are sending files to multiple GCC machines using one PC or sharing one unit of GCC machines with multiple PCs , this wireless technology can be an excellent helper.
The newly introduced optional item, Wi-Fi router, allows you to transmit data through wireless network. The Wi-Fi router can work with GCC laser engravers and RX II/ Jaguar V cutting plotters through the Ethernet port. Simply connect the machine with an Ethernet Cable and a Wi-Fi Router, then the laptop can communicate with machines through Wi-Fi. The process is diagrammed as below.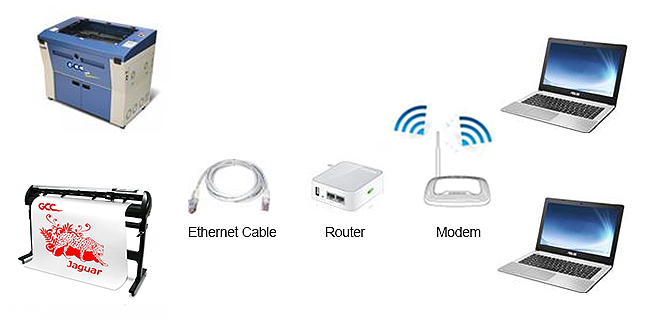 For more product information, please contact local GCC sale representatives in your area or visit www.GCCworld.com.
About GCC
GCC, a global leader in professional large format UV curable inkjet printer, laser engraving/cutting/marking systems, vinyl cutting equipment, provides businesses, governments, and consumers with innovative and reliable solutions. Headquartered in Taipei, Taiwan, GCC has branch offices in Walnut, CA and Capelle a/d IJssel, Netherlands. With over 100 current and pending worldwide product patents and trademarks, GCC has earned a worldwide reputation for innovation, quality and reliability in the awards & recognition, sign, personalization and manufacturing industries.