新闻稿
Apr.2014
Installation Video for GCC Cutting Plotters
GCC, a global forefront equipment-manufacturing provider in the visual communication industry, is glad to introduce this installation video for its cutting plotters. This video is included in the Installation CD to guide users through the installation procedure.
Receive your GCC cutter and get started with ease - this installation video is made to show details when customers are using the GCC cutter for the first time, the contents include unpacking the GCC machine and accessories, installing driver to output files. The GCC Expert 24 cutting plotter is used as an example to make it easier to understand. Users can find the video in the installation CD enclosed in GCC accessory kit, or it can also be found on GCC website,
click
here to start the vedio.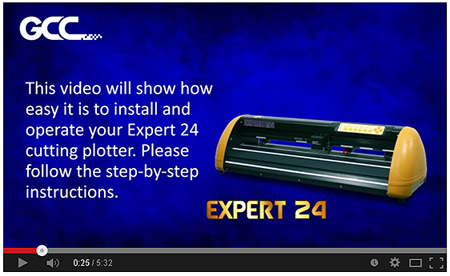 GCC aims to provide high quality products as well as comprehensive services to customers, making GCC cutting plotters not only professional but handy and enjoyable.
For more product information, please contact local GCC sale representatives in your area or visit

http://www.gccworld.com/.
About GCC
GCC, a global leader in professional large format UV curable inkjet printer, laser engraving/cutting/marking systems, vinyl cutting equipment, provides businesses, governments, and consumers with innovative and reliable solutions. Headquartered in Taipei, Taiwan, GCC has branch offices in Walnut, CA and Capelle a/d IJssel, Netherlands. With over 100 current and pending worldwide product patents and trademarks, GCC has earned a worldwide reputation for innovation, quality and reliability in the awards & recognition, sign, personalization and manufacturing industries.