新闻稿
Oct.2014
Introducing i-Craft Scrapbook Cutting Machine
GCC, a global forefront equipment-manufacturing provider in the visual-tech industry, is pleased to launch i-Craft, the ultimate scrapbook cutting machine.
i-Craft, the best scrapbook tool for hubby users, schools, offices and families, which turns creative concepts to concrete designs, is now available. With the maximum cutting width of 12 inches (305mm) and up to 12 ips (300mm/s) cutting speed, i-Craft can easily make every user a scrapbook professional. i-Craft with be available in September, 2014.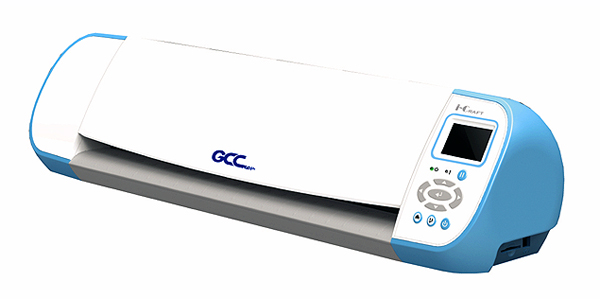 Highlights:
Enhanced AAS II Contour Cutting System
With the AAS II contour cutting system, users can print graphics they like and use i-Craft to cut the contours automatically to complete a diversity of designs in an easy way, including stickers, décors, cards, and so on.
250 Grams of Cutting Force
The maximum of 250g cutting force extends the applicability of i-Craft which can cut various materials, such as cardstock paper, heat transfer paper, tattoo paper and soft magnetic sheets.
Auto Feed/Eject Function
Simply press the Auto Feed/Eject key, the media will be fed or ejected automatically and your work will be easier and more accessible.
SD Card Slot
With the use of SD cards, users can create their designs wherever they want and save them to SD cards for later uses. i-Craft eliminates the limitation of creation.
(Note: a SD card is an optional item. i-Craft can accept SD card and SDHC card and support the capacity up to 32Gbtye).
Auto-adjusted Blade
i-Craft is equipped with an auto-adjusted blade, so users can cut the designs perfectly without complicated blade adjustment procedure.
Adhesive Sheet
An adhesive sheet can be used to fix different materials from card stock to soft magnets. It is available in two sizes: 12 x 12 inches, for a very commonly-used cutting area, and 12 x 24 inches, for a more extensive cutting area (optional item).
Intuitive Driver (Optional Item)
The sophisticated i-Craft driver is compatible with a diversity of file formats including .jpg, .bmp, .png, .plt, dwg, etc., providing the optimum compatibility. Users can edit texts and shapes in the software they are familiar with and output designs through the intuitive i-Craft driver that allows users to get into i-Craft in the fastest way.
Large LCM Screen
The large LCM screen shows the selected functions and makes i-Craft easy to operate. The easy-to-use user interface turns every user to a scrapbooking expert.
For more product information, please contact local GCC sale representatives in your area or visit www.GCCworld.com.
About GCC
GCC, a global leader in professional large format UV curable inkjet printer, laser engraving/cutting/marking systems, vinyl cutting equipment, provides businesses, governments, and consumers with innovative and reliable solutions. Headquartered in Taipei, Taiwan, GCC has branch offices in Walnut, CA and Capelle a/d IJssel, Netherlands. With over 100 current and pending worldwide product patents and trademarks, GCC has earned a worldwide reputation for innovation, quality and reliability in the awards & recognition, sign, personalization and manufacturing industries.