新闻稿
Sep.2014
Auto Media Calibration (AMC™) for JC-241UV Printer/Cutter
The auto media calibration pin automatically detects and gauges the distance between the print heads and loaded media before automatically adjusting the height of the print heads to the optimized position based on the thickness of the loaded media.
AMC automatically detects material thickness and auto-adjusts the position of ink droplets that fall to the material from the moving print heads via the FlexiPRINT DX - GCC Edition RIP software to optimize printing quality.
The Auto Media Calibration (AMC™) system is a total solution for material thickness detection on JC-241UV. It facilitates and diversifies printing applications.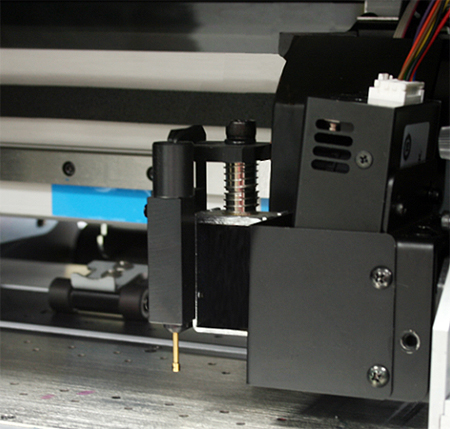 Note:
The actual detectable thickness of AMC is 10mm.
For more product information, please contact local GCC sale representatives in your area or visit www.GCCworld.com.