新闻稿
Jul.2014
GCC Proudly Announces a New Patent for GCC LaserPro MG380Hybrid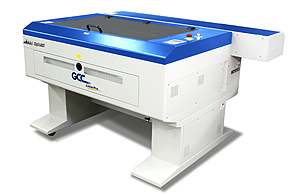 GCC, a global forefront equipment-manufacturing provider in the visual communication industry, is pleased to announce that GCC LaserPro MG380Hybrid has obtained a patent for its automatic switch design between dual laser tubes in Taiwan.
GCC LaserPro's latest MG380Hybrid has received great feedback from exhibitions due to the fantastic design and user-friendly features; especially the unique automatic dual lasers switch function that is able to switch between the RF-driven metal tube and high power DC excited glass tube within one second to deliver extraordinary engraving effects and produce a clear cutting edge.
MG380Hybrid satisfies users' needs by equipping with two kinds of laser tubes on one chassis so users can enjoy the high engraving quality of metal laser tubes while taking advantage of low per-wattage cost of high power glass tube laser for cutting. Moreover, Its driver interface and operation procedures are exactly the same as a conventional GCC LaserPro machine, making it easy for users to get familiar with MG380Hybrid.
To discover more information about MG380Hybrid, the best combination of laser technologies, please contact your local sales representative or visit www.GCCworld.com.