新闻稿
Jan.2012
GCC LaserPro H230 Won 2012 Taiwan Excellence
GCC, a global forefront equipment-manufacturing provider in the visual communication industry, is proud to announce that our GCC LaserPro H230 have won 2012 Taiwan Excellence.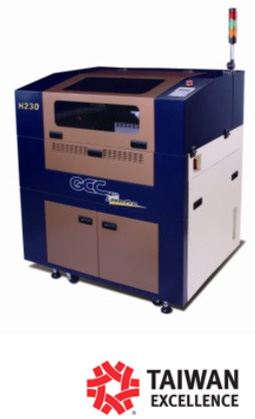 About GCC LaserPro H230
GCC LaserPro H230 is a laser marker with integrated system of galvanometer scan head and XY linear rails designed for versatile industrial use and high productivity. Equipped with easy-to-use G-Mark Software, H230 delivers the most cutting-edge marking system and provides an all-in-one solution for your business needs.

A galvanometer scan head, which provides rapid marking speed, is mounted on the linear moving rails. Combination of the two allows large area marking utilizing the graphic tiling feature and batch marking for large quantity production.

H230 delivers a higher throughput rate for batch marking and the semi-automatic system provides versatility and more efficient workflow. H230 is no doubt an innovated breakthrough for your business.

About Taiwan Excellence
Taiwan Excellence is the highest accolade awarded to products that encapsulate innovalue. Taiwan Excellence winners not only represent the most revolutionary, high quality, high value added products made by Taiwan. They epitomize Taiwan's unique genius in using innovation to create added value in the design and manufacturing of leading-edge products.

For more product information, please contact local GCC sale representatives in your area or visit http://www.gccworld.com/.


About GCC
GCC, a global leader in professional large format UV curable inkjet printer, laser engraving/cutting/marking systems, vinyl cutting equipment, provides businesses, governments, and consumers with innovative and reliable solutions. Headquartered in Taipei, Taiwan, GCC has branch offices in Walnut, CA and Capelle a/d IJssel, Netherlands. With over 100 current and pending worldwide product patents and trademarks, GCC has earned a worldwide reputation for innovation, quality and reliability in the awards & recognition, sign, personalization and manufacturing industries.